Insuring your goods – Your protection plan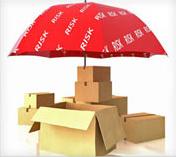 Kae International's reputation in national and international packing has surpassed our customer's expectations. It is our responsibility to provide the greatest care of every single item that is packed in order to protect all your valuable goods that are being moved. We also must acknowledge that any moving service can be exposed to risks. You can not predict any unexpected event that can be harmful to your possessions, therefore it is always recommended to insure all your goods while in transit or in storage.
We can not make personal recommendations on "how much" you should insure your effects, however, we do recommend that your household goods and office effects should be insured for their full replacement value in the country to which you are moving. It is likely that the cost of repairs as well as replacement will be higher abroad. If you do not insure for full replacement value you will only be able to recover part of your loss from insurers.
We offer a range of insurance options at very competitive rates. We will be happy to talk with you about the most appropriate cover for your specific moving requirements.
KAE International Movers Download Insurance Itemized List
Kae International Movers are representatives of EDUARD PFEIFER GMBH (Hamburg)