Our team will always take the time to go through all types of vehicle transport solutions to provide you with all possible transport methods while looking into the value for money option. Shipping your vehicle Overseas or to and from Europe can be done with the following transport methods:
Container transport: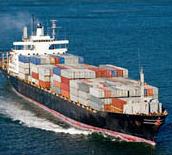 If shipping your vehicle alone or together with your household goods, our crew will securely load, lash and strap the vehicle to the internal supports. Wooden block supports are also used for the vehicle so it helps minimize the movement to and fro when the container is being transported via road or on the vessel. In the event that your household goods are also transported with your vehicle, both will be separated and partitioned for safety. It has proven to be very economical when shipping both your household and vehicle together, and is widely used for most parts of the overseas world.
Roll on/Roll off (RoRo):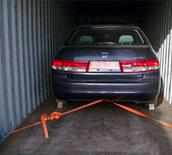 The easiest way of shipping a vehicle is the RoRo service (i.e. roll on / roll off). This abbreviation is exactly what it means, which is that vehicles are taken to the port and driven into the carrier and once at destination, driven off the carrier. In transit, the vehicles are covered by the deck above keeping it in good, clean condition. As long as the vehicle is in good driving condition, the advantage of RoRo services is that you are not limited by the size of the vehicles that require transporting. A very popular transport method for car manufactures but also for the individual.
Auto Car Carriers: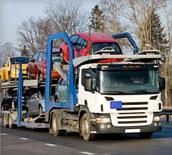 Auto car carriers are the truck carriers that you may have seen on the road that carry cars only. It is a fast method of transporting your cars to many of the EU counties, or at least where we have a dedicated coverage once a week.
Crates (for Motorbikes):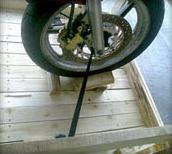 Crates are used specifically for motorbikes so that they are fully protected while in transit. This method is very popular when shipping only your motorbike as it takes up very compact space into a container or truck. Crates are usually "made to size" of the motorbike being shipping.