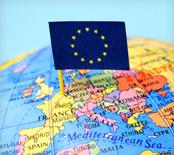 Moving within the EU has become more popular than ever. Companies and individuals are constantly looking at diversifying  into neighboring European countries to grasp new opportunities. Kae International Movers is a member of EUROMOVERS INTERNATIONAL, which offers regular services to and from all of the EU member states.
Most European removals are carried out by road, and shipments to all EU destinations are scheduled to depart from Greece once per week. Likewise, the import of household and office goods leave from numerous EU partnering depot's and are received into Greece once per week. After the careful packing and loading of goods, most EU destinations are reachable within 3 – 8 days from the time our fleet of trucks depart from any EU warehouse / depot.
Moving to Europe can also be serviced via containerized transport (via sea) and / or by Air.
SCHEDULE A HOME / OFFICE SURVEY