Once an appointment has been arranged with one of our members of staff, we will appoint a surveyor who is not only experienced in calculating volume, but also very familiar with the process of your entire move from A to Z. It is important to us to be able to answer any questions that you may have on the same day of performing the survey. Our aim is to bring a sense of understanding of certain important events BEFORE, DURING, AND AFTER the move has been completed.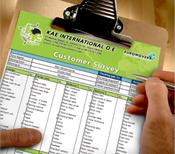 The surveyor's main role is to:
a) calculate the volume of goods that need to be moved
b) recognize any special handling items that need to be moved or crated
c) assess the type and the quantity of materials to be used
d) assess the access conditions (e.g. if trucks/containers are able to park outside your residence/office areas etc)
Usually, surveys can take between 45 minutes to 1½ hours, depending on the volume. Once the survey has been completed, it is best to set aside approx. 20 minutes to answer any questions that we or you may have.