The Top 5 tips for moving safely 
At Kae International Movers, the happiness and safety of our customers is our highest priority. If you want to ensure a safe removal, there are plenty of precautions to take and things to check. Here are 5 tips to properly vet your removal company in order to move safely.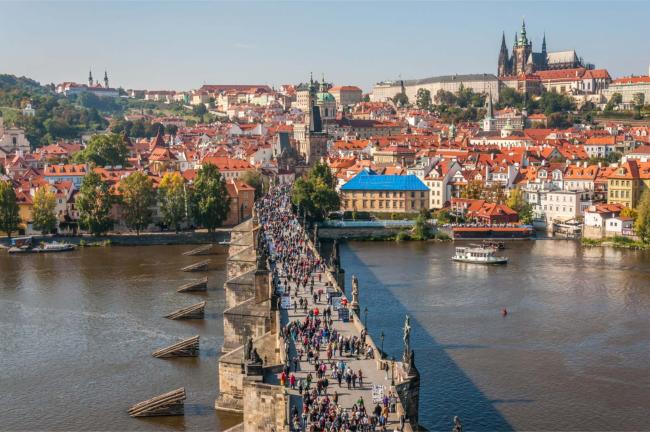 1. Choose a reliable moving company
Reliability should be your first step when looking for a safe choice in moving. Do the research and pick your moving company carefully. To make sure that the moving company is trustworthy, get referrals and start by asking friends, family members and co workers if they can make a recommendation. Research a moving company directory such as this one for Prague and the Czech Republic, for a list of reputable movers. Also look for website testimonials or verified customer review platforms such as Google Reviews and social media.  
Accreditations and awards
A great way to check the quality of the moving company you're considering is checking to see if they are up to date on their certifications. Also check the moving company's website for professional accreditations and industry memberships such as Euromovers or the IAM, the global association of movers and forwarders committed to providing customers with the highest level of service available.
2. Expect high level Customer Care
At a reliable moving company you may expect the highest level of customer care. A moving company is responsible and professional when they offer a trusted customer care department and have someone in charge of answering all your questions. Ask for an in-person estimate, since no company can really give you a thorough estimate without seeing your belongings. During the estimate, note how professional the movers are. Adaptability and flexibility must be key when addressing your concerns, and you should expect a fast and professional response to all your queries.
3. A safe choice in moving with Kae International Movers in Prague: Insure your personal effects
It is the moving company's responsibility to provide the greatest care of every single item that is packed in order to protect all your valuable goods that are being moved. But any moving service can be exposed to risks. Unexpected events cannot be predicted, therefore it is always recommended insuring all your goods while in transit or in storage in the Czech Republic. 
Valuing your goods and completing your inventory is an important step ensuring your goods are well covered. In case of an international move, insure your personal goods or office effects for their full replacement value in the country to which you are moving. It is likely that the cost of repairs as well as replacement will be higher abroad. If you do not insure them for the full replacement value, you will only be able to recover part of your loss from the insurers. 
Have as much written information about your high value items as possible. The underwriters of your moving company may require proof of ownership and/or value of such items. Make sure you photograph these items, print them in color, date and sign the prints and add them to your inventory. For items of high value, you can never take too many precautions. 
Also pay attention to storage coverage. Some moving companies insure their clients' goods from collection to delivery whilst others only insure goods while in storage. 
4. Check Security Measures 
Protecting clients information
Whether you are moving your family or relocating your company, keeping sensitive information safe during relocation can be challenging. Office moves in particular can get chaotic, which increases the likelihood of slipping away your confidential information to the wrong hands. Professional moving services will keep your family, client and business information protected when moving. 
It is a must to make a list of inventory, but it is essential for sensitive documents too. By making a record, you will get to know whether you have any client and business information that needs to be protected. At the same time, discard unnecessary documents. We all accumulate documents that are no longer necessary, so moving is the right time to dispose them permanently. It will make your move or relocation secure, efficient, and less messy. Use a shredder for hard copies with sensitive data and information. When deleting electronic files, it is vital to remove them from your server or computer. 
Do not pack confidential documents with other possessions. Always keep sensitive information locked up in drawers or cabinets when shifting your home or office from one place to another.
Take advantage of secure storage services to ensure the safety of your official documents and information throughout the process. 
Secure Storage Warehouse 
Not all moving companies offering storage facilities are created equally. Be sure to ask about their levels of security, access, and climate controlled conditions. Professional movers have the ability to store your household belongings in a climate controlled and secure storage warehouse. You also want secure storage location without unauthorized entry. These secure storage facilities have multiple levels of security. This can include video surveillance, locked gates, and on-site security personnel. 
5. Stay COVID-19 Safe
Make sure your moving company is COVID-19 secure (click here). Ask what measures they are taking to ensure a safe move experience during the COVID-19 outbreak because some measures undertaken by the Czech Republic differed in key aspects from other countries. Reputable movers must understand safety and health, and it's imperative the moving company you choose demonstrates considerable vigilance at this time.
Get a virtual quote, and be clear on the process of rescheduling your move should corona crisis measures change. Choose a moving company that is flexible during these uncertain times. When you receive your moving quote, you may want to inquire about refund and/or deposit policies in the event you do need to cancel your move. 
When you are ready to move, clean and disinfect and make sure that you increase ventilation by opening windows and doors to allow in fresh air.  Once the movers have arrived for loading and unloading, practice the general COVID-19 protective safety measures advice by the Ministry of Health of the Czech Republic*. These recommendations include but are not limited to the following: wearing masks and/or creating reminders to avoid touching the face, regular handwashing and regularly disinfecting surfaces, social distancing and protection of vulnerable family members. After you move, you should thoroughly disinfect your new home before you unpack and settle in.
Vetting your movers safety is the most important step to take when it comes to making your moving decision. At KAE International Movers we have gone the extra mile to make sure you feel that we are a company you can trust. For more information about our services, and to ask additional questions, contact our Prague, Czech Republic today.


*For up to date information on the latest guidelines and measures on Covid-19 caused by the coronavirus on the website of the Czech Republic Ministry of Health, click here.