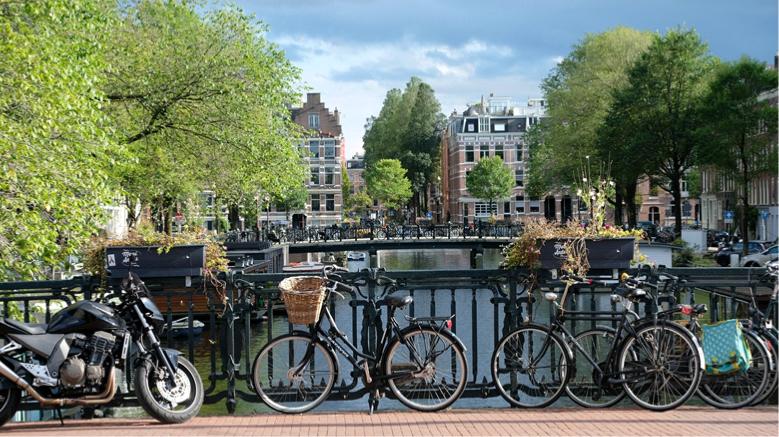 A practical guide for international movers and packers Netherlands
What do you need to know for moving to the Netherlands from Greece?
Are you thinking of moving from Greece to the Netherlands? Being part of the EU, Greek citizens face fewer bureaucratic and custom restrictions moving to the Netherlands in comparison to third-country citizens. However, organizing an international relocation is not something you should do on your own. KAE International Movers has the experience to offer essential services and knowledge to help you move to (and from) the Netherlands easily.
International movers to the Netherlands
At KAE International Movers, we have a constant flow of weekly transports between Greece and the Netherlands, and we deliver everywhere in the country. That is why we offer a team of experienced local experts to help you move to the Netherlands or back to Greece, move your household goods, and settle into your new country. They will get your belongings from Greece to Holland (or the other way around) safely and on time.
KAE International, movers and packers Netherlands
To make things easier, we have listed the top 5 things to take into consideration when moving from Greece to the Netherlands!
Top 5 things to take into consideration when moving from Greece to the Netherlands
1. Method of transport
The choice in transport depends on what you want to take with you. The volume will help you choose the method of transport and consequently and most importantly, the cost of moving.
Small volume
If you are planning to move goods of a small volume, for instance one pallet (120cm L x 100cm W x 200cm H) and up to 25cbm (a normal sized local truck 6 to 7 meters in length) then road freight may be your best option. Once your household goods are packed and ready to depart, it usually takes between 5 – 8 days for the goods to arrive at our associated warehouse in the Netherlands. This is a good option for people who require a fast service. Road freight option also gives the flexibility of moving with the minimal of transport documents required between both Greece and the Netherlands.
Larger volumes of goods
For people or families who have larger volumes (25+ CBM), sea freight is often suggested. The customer can then compare and make the right decision in which transport method best suits them.
2 Time of delivery
Sometimes, families who have additional extra volume to take with them, need more time to find a residence. This process of finding the correct house could take a few months. This is why we also recommend the sea freight option since the transit time beginning from the time the goods are packed up to the time the goods arrive at the port, could take approx. 25 – 30 days. Within this time frame, it gives families that extra time to look for that ideal house. If the goods were shipped by road, they would arrive earlier, and the customer would have to pay the extra storage costs.
To summarize, to people who want to take their time, we recommend sea freight. For those who want their goods quite fast, we recommend road freight.
In some cases, people don't mind waiting for the majority of their goods to arrive later, but they also need a few things that are essential to them which they would require sooner. For those who require both, the solution is to offer a combination of both sea and road or even sea and air freight, so that the essential items get there either within 2-3 days (air freight) or within a week (road freight).
3 Costs for moving from Greece to the Netherlands: international movers prices
Usually, the best option for a customer is the most economical one. The price of shipping your items depends on a few critical things whereby the most common denominators are the volume and how quickly you want your belongings to get there.
There are also secondary services that could influence the costs such as, what floor level are you moving from or going to? Will you pack things yourself? Are the access conditions at both origin or destination difficult that will require additional handing? You might even require a high value item to be crated such as a piano or a work of art. You may also require some temporary storage.
4 Legal requirements & customs regulations
The Netherlands does not impose rigid rules on importation of personal belongings. They can enter the country without major problems or taxation. However, if you wish to bring food with you, it might get a little more complicated as the country has some notable restrictions for it. Here's a summarized list of prohibited and restricted items.
Prohibited and Restricted Items in the Netherlands
The import of the following items is restricted:
large sums of money in cash or securities (over 10,000 EUR)
animal products and food
art objects and antiques
cars and motorcycles
You cannot bring the following items to the Netherlands:
protected animal and plant species (tigers, snakes, sharks, elephants, etc.) or products made of them (bags, jewelry, coats, etc.)
weapons and ammunition
toy or fake weapons that imitate real ones
narcotics
5 Storage options
If you move to an unfurnished place (often the standards in the Netherlands) you need to bring you furniture along. In that case, choosing an appropriate storing facility for your household items is important. That way you will be ready to make your new house a home as soon as you arrive in the Netherlands.
Renting out safe storage space, whether for the short or long term, is a service that KAE International Movers will arrange for you. We will also help you to plan and ship your goods in advance. 
Do you need more information about your move from Greece to the Netherlands or vice versa? Contact our team today, we are here to help you!
About KAE International Movers
KAE International Movers specializes in relocation services, international moving of household goods, personal effects, office effects and art high value items. The clientele includes embassies, state and private organizations, multinational companies, executives, expats, individuals, art collectors, graduate students and many more. KAE International movers have a worldwide coverage at every continent, based on certified reliable partners and affiliate offices in more than 30 countries.
Kae international movers to Netherlands; Your trusted transport connection between the Netherlands and Greece
Kae International Movers have weekly transports between Greece and the Netherlands and deliver everywhere in the country. Kae provides you with moving services plus transportation, logistics and storage solutions in Holland and Greece.  
Make it easy with KAE international, movers and packers in Greece, settling-in and other essential services!
KAE International Movers Greece to the Netherlands' team are local experts experienced to help you move to the Netherlands or back to Greece, move your household goods, and get settled into your new country.
Are you relocation and searching for international movers in the Netherlands? Contact KAE International movers in Greece today to jump start your move today!