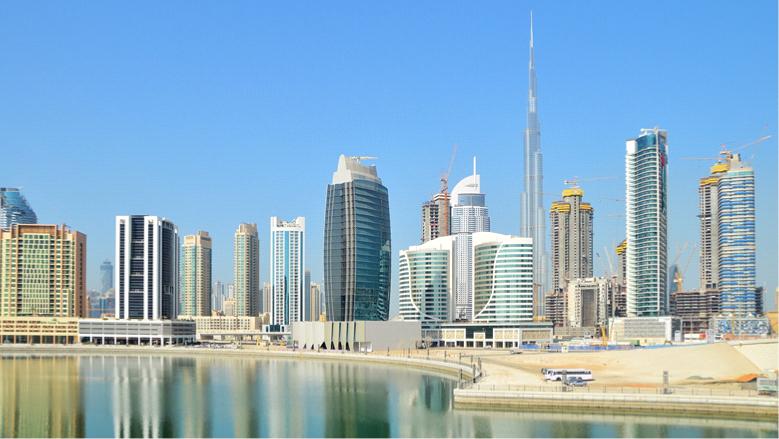 International Movers from the UAE to Greece and vice versa
Are you thinking about moving from the UAE to Greece or maybe from Greece to Dubai or Abu Dhabi? Whether you are moving from any of the UAE to Greece or the other way around, we have got your needs covered. In this post we discuss several important topics to take into consideration when moving from the UAE to Greece and vice versa!
Interview with our local expert Abhilash Nair in Dubai
For professional expert advice, we spoke with our local partner Abhilash Nair based in Dubai, about international movers to the UAE. Abhilash covers the relocation needs for the UAE, Oman, Qatar, Kuwait, Bahrain, Saudi Arabia and India. We talked about moving from Dubai to Greece and moving from Abu Dhabi to Greece.
Q: Abhilash, what is in your opinion the most important thing to take into consideration when moving to the UAE?
'UAE is one of the most attractive places in the world today to work and live with family and one of the happiest and safest country as documented in many places. As in any other country, I would advise anyone to do their research before coming here. These are my tips:
You must try to and secure a job before moving or landing into the country or planning to move to the UAE.
You should bargain on a good salary and related benefits as it varies drastically from company to company / institutions you pick up to work or join.
I believe that accommodation is very important. You should stay in the city and be prepared to pay more, or you can decide to find something much cheaper if you plan to drive 25-30 minutes.
Make sure getting your tenancy contract in place correctly – it's quite easy to rent a place in UAE.
Try to gather information on the local culture and the acceptable behavior while living in the country.
Avoid spending on too much luxury as there is sufficient flashy things around to deviate your savings and spend.
You should move around to check the access points of different needs related to individual or family.'
Q: What is in your opinion the most important thing to take into consideration for people who are moving from the UAE to Greece or Czech?
'The cost of living and knowledge of local culture is key!'
Q: Can you tell us a bit more about the costs involved moving to the UAE?
There are 4 main cost factors:
Renting a place
Food
Medical insurance – mostly companies do cover this and if not all, then often a major cost
Schooling – if not covered by your company, then it is a key & major cost to consider!

Q: What is the housing marketing like in the UAE? Is it difficult to find a home?
'The UAE offer one of the best options in terms of accommodation, its easy and simple to sign up a property for rental. To give you an example; studios of 1 BHK to 6 or 8 BHK flats to houses are available. The minimum need is to have a UAE residence on your passport and the EID (Emirates ID card). All variable cost options are available depending on the location you choose to live.'
Q: Do people use Long Term or Temporary Storage Solutions?
'Yes. People do use long and short terms storage solution as at time they change the contracts or jobs or location, even self-storage also a popular option for many who at time downsize their living house or keep changing the interior etc.'
Q: Any other tips to make moving to the UAE or from the UAE a relaxing experience?
'Other than securing your cost of living, the medical and/or schooling, almost everything here is the best in the world and very affordable. Starting from food to staycation, entertainment, and luxury, it's at its best possible way.'
Q: Would you like to add anything for people who are moving from or to the UAE (or specifically to Dubai or Abu Dhabi?)
There many reasons to move into UAE. Here is my list!
Opportunities are vast for business and jobs
Manor earnings are tax-free in the UAE
Balance between city and costal living
Well planned city in the world
Dubai is an international transport hub
Safety & culture grows and thrives here
Properties to live in are beautiful at reliable cost
You can ice-ski in the desert
Shopping malls are amongst the best in the world
A strong and stable economy really does rule
Educational standards are high
There's no language barrier
Indexes for Quality of Living rate Dubai and UAE highly
UAE is very family friendly
Excellent support for Expats
The new 10-Year Visa and 100% foreign ownership
The UAE rulers wants everybody to be happy
Thank you very much, Abhilash for taking the time to share your experiences with us!
Useful Information
Legal requirements for the UAE
Documents Required
Copy of passport
Copy of residence permit / residency visa on passport
Employment visa with entry stamp of the UAE if residence visa not ready / Emirates ID copy / Emirates ID application form / Visa applicable form etc.
Bill of lading (express release) / air waybill (AWB)
Detailed packing list in English
Letter from Ministry of Foreign Affairs for exemption from the payment of Customs duties (diplomats)
Copy of diplomatic card (diplomats)
Letter of authorization / undertaking
Specific Information
All documents must be in place prior to shipment arrival on port
Without a residence visa or passport, shipments will not be cleared, nor will the shipping line release the delivery order or release order for the shipment.
Import shipments may be intensively inspected by Customs authorities with charges incurred.
The importation of household goods and personal effects into the UAE is exempted from Customs duties.
If any prohibited items are found during the Customs inspection, severe punishment will be imposed including fines, imprisonment, or both. All import duties are charged based on the costs, insurance, and freight (CIF) value of the shipment.
Import Duties on new items are changed at 5% of the value of the item and VAT on total shipment value is 5% as well.
It takes approximately 4 – 5 work-days for sea shipments, 3 – 4 days for air shipments.

Shipments not cleared within 5 days from the arrival date at the port will not have a free port storage period granted and the shipment will attract port charges from the first day of arrival.
Shipments that arrive before the weekend i.e. Friday and Saturday will automatically lose two days of Customs clearance and the shipment can become more susceptible to incurring port storage charges.
Motor Vehicles
Documents Required
Copy of passport
Copy of residence visa on passport
Copy of diplomatic card (diplomats)
Residence permit
Original / express bill of lading
Authorization letter
Title / Copy of certificate of origin / registration card from origin country vehicle certificate must include detailed description, including engine number, year of production, colour, etc.
Copy of commercial invoice / copy of purchase invoice
Proof of ownership
Specific Information
The length of ownership is not applicable when deciding duties.
Duties on new items @ 5% and VAT on total shipment value @ 5% are charged on all motor vehicles and goods.
Customs will issue a vehicle clearance certificate in 2 – 3 days; this document is required for registration with the traffic department.
Jebel Ali has tremendous port congestion, therefore, be aware of delays in clearing shipments, the time frame is approximately 1 – 2 weeks from the arrival date of shipment.
Owners of the goods that are bringing cars must be able to provide a copy of their UAE residence visa or no clearance and release will take place.
The vehicle can be older than 10 years with approval of the local agent.
Vehicles with tinted glass restricted for import.
Only left-handed cars are allowed.
Details needed for Customs clearance:
Model of the vehicles with the model number
Colour of the vehicle
Year of manufacture
Current market value
Engine and chassis number
Weight of the vehicle (if applicable)
Prohibited and Restricted Items for the UAE:
Restricted/Dutiable Items
The following items may qualify for free import if within the limits indicated:
Cigarettes (400), cigars (50), tobacco (500)
Prohibited Items
Weapons of all kinds
Military uniforms
Alcohol and spirits
Narcotics of all kinds, including poppy seeds, flowers and leaves
Banned substances, including drugs and medicines
Radio transmitters, wireless transmitters and communication equipment
Gambling games
Statues and figures of animals with religious undertones
Carvings and statues of humans (especially nude)
Pornographic materials
Controversial political and religious literature and materials contrary to Islamic principles
Toxic and radioactive materials
Items manufacture by Israeli blacklist and of Israeli origin
Food items containing pork
Articles made from endangered animals or made of ivory or rhinoceros horn
Any other goods, the importation of which is prohibited under the authority of U.A.E. Customs laws or any other laws in the country
Contact local agent for more specific details
International Movers from Dubai and Abu Dhabi to Greece
Legal requirements & customs regulations for Greece
Visa regulations for moving to Greece
When immigrating to Greece from non-EU countries, you are supposed to get a visa and apply for a residence and work permit upon your arrival. While a visa allows foreigners to enter the country, permits provide a legal right to live and work in the country.
Tourist visa. Apply for a tourist visa in Greece if you want to travel and stay there for less than 3 months.
Business visa. This type of visa is issued to those who have business-related activities in Greece.
Work visa. Expats who immigrate to Greece for employment reasons from outside the EU will have to sign a job contract first before applying for a work visa.
Investment visa. Those who buy a dwelling in Greece, which costs more than €250,000 or those who invest at least €300,000 in the Greek economy are eligible for an investment visa.
Relocating from the UAE, Dubai or Abu Dhabi to Greece? Make it stress-free with KAE International Movers
Whether you are moving from or to the UAE or Greece, you should hire a professional moving company that can assist with your move. KAE international Movers helps you to save both time and money for your international relocation. Using our company is the quickest and most reliable way to move by from the UAE including Abu Dabhi and Dubai.
Frequent transports between Greece and the UAE
KAE International Movers have frequent transports between Greece and UAE, and deliver everywhere in the country. KAE provides you with moving services plus transportation, logistics and storage solutions in Dubai, Abu Dhabi and Greece. 
Our team consists of local experts experienced to help you move to the UAE or back to Greece, move your household goods, and settle into your new country. They will get your belongings from Greece to Dubai or Abu Dhabi (or the other way around) safely and on time.
Head on over to our website and fill out our "ask for a quote" page to find out what the costs would be to set you up at your new home. To start receiving a quote for moving from or to the UAE, simply fill in this form or email rates@kaeintlmovers.com and our international team will get back to you!
Make it easy with KAE International Movers from the UAE to Greece or vice versa for settling-in and other essential services.
Contact us today to jump start your move, and begin your preparations with for international moving from the UAE to Greece and vice versa.